Life has evolved through an intricate series of speciation and extinction events for about four billion years and has reached the tremendous diversity of forms we see today. This long and continuous process, worthy of being called Leaps in Evolution, has witnessed important developments of essential biological functions for vertebrate animals, including the acquisition of vision, significant lifestyle change from the sea to the land, and the acquisition of the placenta. These significant evolutionary transformations are evidenced in the fossil record. In fact, fossils are the time capsule for tracing the evolutionary history of life.
With the cooperation of research institutions across the world, this exhibition presents extraordinary collections of invaluable fossils that represent each phase of Leaps in Evolution. These precious fossils are displayed together with the latest DNA-based research findings, precisely reconstructed models of prehistoric animals, and 4K video images in order to provide a comprehensive review of the great journey of vertebrate evolution.
We hope to see you in this grand exhibition at the National Museum of Nature and Science.
Exhibiton
Title
Leaps in Evolution - Tracing the Path of Vertebrate Evolution
Period
July 7,2015 - October 4,2015
Hours
9:00 a.m. - 5:00 p.m.
9:00 a.m. - 8:00 p.m. (Every Friday)


*Last entry 30 minutes before closing.

*Special summer holiday opening hours: 9 a.m. – 6 p.m. from August 8th(Sat.) –
August 16th(Sun.) (Open till 8 p.m. on August 14th)

*Opening days, hours etc. are subject to alteration. Please check the website before your visit.

Closed
July 13th(Mon.), September 7th(Mon.), September 14th(Mon.), September 28th(Mon.)

The opening schedule and other information might change depending on the situation. Please refer to our website for any further notice.
We apologize for your inconvenience, and appreciate your understanding.

Organizers
National Museum of Nature and Science, NHK, NHK Promotions

Supporter

Ministry of Education, Culture, Sports, Science and Technology Japan
Sponsors
Nissha Printing Co., Ltd., Mizuho Bank Ltd.
Ticket and Prices
Adults and university students
1,600 yen (1,400yen*)
Students of elementary /junior high / high school
600 yen (500yen*)

* Prices in brackets for tickets bought or by group of 20 or more visitors

Tickets include admission to the permanent exhibitions.
Special Pair Ticket for Two on Friday Evenings
2,000 yen

* Pair tickets are only sold on the day
* Holders must enter together / Pairs may be the same or different sex
* Valid from 5 p.m. to 8 p.m. (Last admission 7:30 p.m.)
Access
National museum of Nature and Science, Tokyo
7-20 Ueno Park, Taito-ku, Tokyo 110-8718 (more infomation)
view on app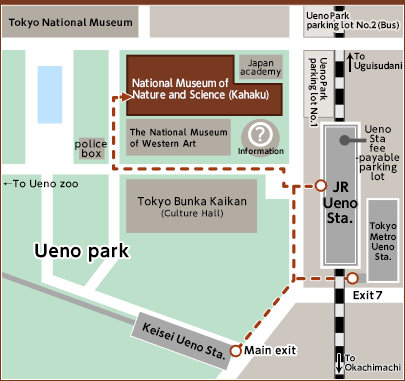 5 min. walk from JR Ueno Station, Park Exit
10 min. walk from Tokyo Metro Ginza Line/Hibiya Line Ueno Station
10 min. walk from Keisei Line Keisei Ueno Station
We have neither parking area for cars nor bicycles
* Nearby parking facilities: