Highlights of the Exhibition
1 What are Specimens in the Museum?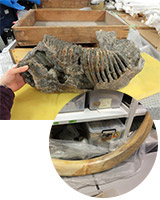 Specimens are items that exist in the natural world for various objects; they are portions extracted from the entire article so that they can be observed, investigated, and studied in the museum. Each specimen must always be accompanied by relevant information such as the place where it was collected and its sexes. Sometimes research reaches a point where the purpose of the study becomes unclear, and in this event, it is extremely important for many specimens to be stored for long periods of time in suitable facilities and under appropriate conditions so that they can be reexamined in the future when technology has advanced.
2 Let's Look into the Specimen Preparation Room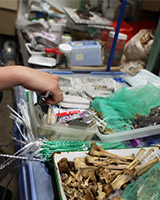 Here we introduce the respective processes and work areas used for creating specimens in the Zoology, Botany, Geology, Anthropology, and Science and engineering departments. The required tools, instruments, and machinery for preparing specimens are also on display. The fine tools and instruments were actually developed in the specimen preparation room.
3 The Future of the Museum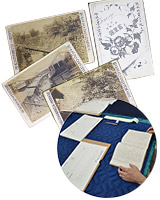 The National Museum of Nature and Science currently owns 4.6 million specimens, and more than 90,000 specimens are collected to this total every year. The items, which are steadfastly collected on a daily basis, are turned into specimens through specimen preparation and then stored in the museum; all of these contribute not only to current research, but also to future study. By holding exhibitions and conducting learning support activities, the museum also plays an important role in deepening the understanding of science and natural history in people and stimulating their curiosity. This section introduces the history of the museum.