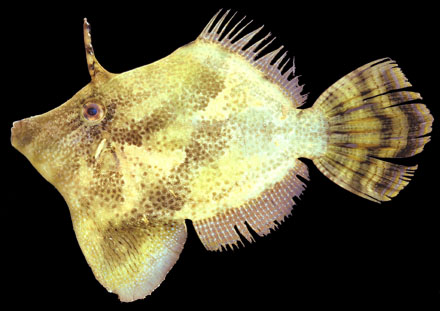 Monacanthus chinensis, 85 mm SL
Monacanthus chinensis (Osbeck, 1765)
Fanbellied leatherjacket
D II-28-30; A 27-30; P1 12

Pelvic terminus prominent, composed of 3 segments of encasing scales and movable dorsoventrally; ventral flap very large; upper caudal fin rays produced into a filament; body light brown with many irregular dark brown blotches; reaching to 38 cm. Western Pacific.

Bagian akhir sirip perut jelas, terdiri dari 3 bagian sisik penutup dan dapat digerakan keatas dan kebawah; membrane perut sangat lebar; jari-jari sirip ekor bagian atas membentuk filamen; badan coklat muda dengan beberapa bercak coklat tua yang tidak beraturan; mencapai ukuran 38 cm. Pasifik Barat.