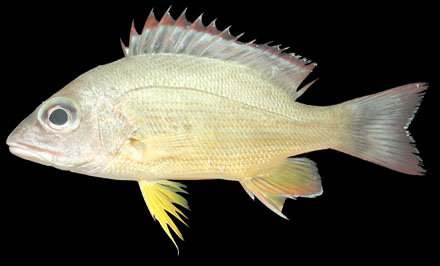 Lutjanus fulvus, 73 mm SL
Lutjanus fulvus (Forster, 1801)
Backtail snapper
Kakap tambak
D X,14; A III,8; P1 16; GR 16-20

Body elongated, compressed; vomerine tooth band lacking a medial posterior extension; preopercular notch and knob well developed; dorsal fin sometime with a broad dark grey or brown margin; caudal fin blackish. Indo-Pacific.

Badan memanjang, pipih; barisan gigi vomerine tidak memanjang ke belakang di bagian tengah; lekukan preoperkulum dan tonjolan berkembang baik; sirip punggung kadang-kadang dengan pinggiran lebar abu-abu gelap atau coklat; sirip ekor kehitam-hitaman. Indo-Pasifik.