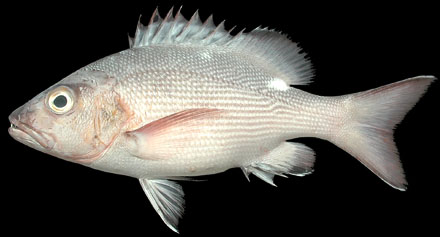 Lutjanus bohar, 191 mm SL
Lutjanus bohar (Forsskål, 1775)
Twospot red snapper
Kakap mailah
D X,13-14; A III,8; P1 16-17; GR 22-23

Body moderately deep; a deep groove or pit from nostrils to front of eye; vomerine tooth band without a medial posterior extension; preopercular notch and knob moderately developed; body dark brown dorsolaterally, reddish ventrolaterally. Indo-Pacific.

Badan lonjong, pipih; lekukan preoperkulum berkembang kurang baik, lekukan inteoperkulum tak jelas atau tidak ada; dorsolateral badan coklat kehijau-hijauan sampai kemerah-merahan, ventrolateral keputih-putihan atau keperakan. Indo-Pasifik Barat.