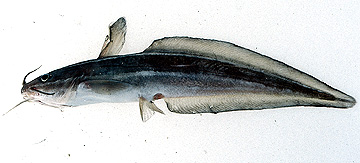 Plotosus lineatus 10.9 cm SL
Plotosus lineatus (Thunberg, 1787)
Striped eel catfish
Diagnostic characters: Body elongate; head depressed but tail compressed; nasal barbel reaching to hind margin of eye; gill membranes free from isthmus and joined anteriorly; second dorsal-fin origin behind pelvic-fin origin. Dorsal rays I, 4-79 to 83; anal rays 65-70; pectoral rays I, 9 to 10; pelvic rays 10-11. Body depth 15-17% SL, head length 20-21% SL; eye diameter 19-21 of head length.

Color: Brown to dark brown above, whitish below with two narrow white to pale yellow longitudinal stripes (stripes obscure in large adults or preserved specimens); margin of unpaired fins black.

Remarks: Occurring in coral reefs, estuaries and seagrass beds. Feed on small crustaceans, mollusks and fishes; juveniles forming dense aggregations. Maximum length 32 cm SL.

Distribution: Tropical and temperate Indo-Pacific, from East Africa to Samoa, northward to Japan, southward to southeastern Australia.


Plotosus lineatus (Thunberg, 1787)
Ikan Sembilang
Karakter diagnostik: Badan memanjang; kepala gepeng tetapi ekor compress. Daun insang bebas dari ismus dan tergabung kedepan. Permulaan sirip punggung kedua di belakang permulaan sirip dubur. Jari-jari sirip punggung I, 4-(79-83); jari-jari sirip dubur 65-70; jari-jari siri dada I. 9-10; jari-jari sirip dubur 10-11. Tinggi badan 15-17% daripada panjang baku, panjang kepala 20-21%; diameter mata 19-21% daripada panjang kepala. Sungut hidung melewati pinggiran belakang mata.

Warna: Bagian permukaan atas berwarna coklat sampai coklat tua, bagian bawah keputihan dengan strip memanjang berwarna putih atau kuning mudah (pada ikan dewasa atau individu yang diawetkan strip tidak kelihatan); pinggiran sirip yang tidak berpasangan berwarna hitam.

Keterangan: Terdapat di terumbu karang, estuaria dan padang lamun. Memakan krustasea berukuran kecil, moluska dan ikan; ikan-ikan muda membentuk gerombolan yang padat. Panjang baku maksimum 32 cm.

Distribusi: Daerah tropis dan agak dingin Indo-Pasifik, dari Afrika Timur sampai Samoa, ke utara sampai Jepang, ke selatan sampai Australia bagian tenggara.