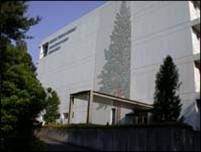 The Department of Botany conducts research using molecular phylogenetic, morphological, and gene analytical methods to understand better the diversity, phylogeny, and evolution of all non-animal organisms such as plants, algae, and fungi.
Division of Land Plants (flowering plants, ferns, mosses)
Division of Land Plants focuses on research into flowering plants, ferns, mosses, three groups that have flourished and diversified among extant organisms. Wide-ranging research—from the morphological to the molecular level—is conducted in order to clarify the evolution and diversity of these groups. The division also carries out joint research with other divisions into the historical background and spatial distribution patterns that determine biodiversity in Japan, and the evolution of indigenous organisms that characterize biodiversity.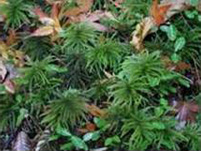 Climacium japonicum Lindb
(Moss)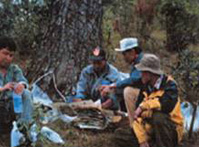 Survey of plants in Thailand
Division of Fungi and Algae (Algae, fungi, lichens, and slime mold)
Division of Fungi and Algae conducts research into algae, lichens (symbiotic relationship with fungi and algae), fungi (mushrooms, molds), and slime mold (amoeba family). It is estimated that several million varieties of these organism groups exist, many of which are still unknown. To identify these yet undiscovered varieties, the division conducts research using a wide variety of methods, including molecular phylogenetic analysis, morphological observations, growth monitoring, and analysis of chemical composition.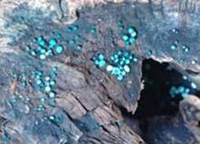 Fungi of the Chlorociboria aeruginosa genus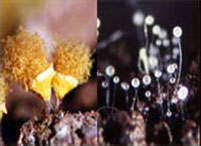 Left: Slime mold;
Right: Slime mold of the Acrasiomycota phylum
Division of Plant Diversity and Conservation (All plants)
Researchers of the Tsukuba Botanical Garden work concurrently at the Division of Plant Diversity and Conservation to monitor the growth of plants, and analyze and determine the right morphology, genotype, chromosomal structure, and composition of the secondary metabolic product, based on the characteristic features of the plant. This research throws light on whether a plant evolved in an individual growth environment, or in a mutualistic relation with other organisms.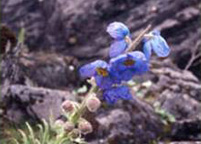 Himalayan blue poppy (Meconopsis discigera)
Determination of the flower color mechanism is difficult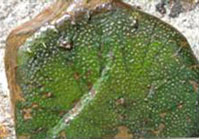 Angiosperm: Hydrobryum japonicum Imamura
The root has taken on a leaf-like appearance
Specimen collection of the Department of Botany
The Department of Botany is located in the Tsukuba Area, along with the Tsukuba Botanical Garden (open to the public), and the herbarium that stores more than 1.5 million specimens for use by researchers in Japan and from overseas. The specimens are stored in order of taxonomical groups. The herbarium for vascular plants has approximately 900,000 pressed and mounted specimens of flowering plants and ferns, while the herbarium for mosses stores approximately 200,000 specimens. Large algae account for approximately 35,000 of the total number of specimens. About 4,700 specimens of microalgae from different parts of the world are mostly stored with different varieties immersed together in a liquid medium. Approximately 210,000 specimens of fungi, 150,000 specimens of lichens, and 57,000 slime mold specimens are also stored in the herbarium. The Department of Botany is creating an electronic database to further enable appropriate management of plant specimens and promote their enhanced utilization.