Outdoor Exhibitions
The Museum boasts several fascinating outdoor exhibits, including a space-rocket launcher and life-size model of a blue whale.

Lambda Rocket Launcher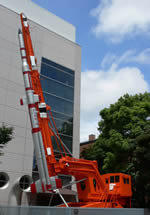 This is the actual Lambda rocket launcher that hurled Japan's first artificial satellite, Osumi, into orbit on February 11, 1970.
*The rocket launcher is exhibited at the rear (JR side) of the Global Gallery.
D51 Steam Locomotive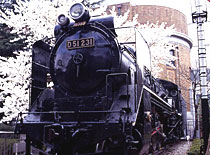 Built in 1939, this steam locomotive was in continuous service until 1975. The D51 was one of the most common types of freight-train steam locomotive in Japan throughout much of the 20th century. 1,115 cars were built in total.
Blue Whale
The blue whale is the largest animal alive on the planet today. This life-size, 30m statue reproduces the blue whale as it would look when diving from the ocean surface.
Large Steel Globe ("Chie Fukuro")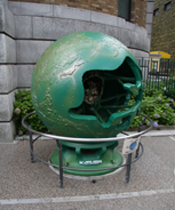 This globe was cast by the full-mold casting process, a casting technique used to produce works of art and other casts with a high degree of accuracy. At the Monodzukuri Exhibition in 2007, this globe was exhibited as an example of full-mode casting. The producer, Kimura Chuzosho Co., Ltd., later presented the globe as a gift to the National Museum of Nature and Science, on whose grounds it is exhibited today.
Full-mold casting: In this casting process, a complete model is fashioned in Styrofoam, covered in sand and hardened, then encased in molten metal. The metal melts the Styrofoam and seeps into the hardened model inside to create the large-scale cast.