Highlite of the Exhibition
1. What are beads?
Why do we humans make and wear beads? Since they were first made around 100,000 years ago, beads have not merely been decoration for people or things. They have been made to fulfil various roles. They are made from a range of materials, the qualities of which have a great influence on the role of the beads.
2. Plant beads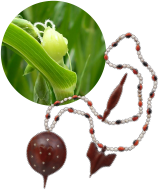 Plant beads were made from seeds, fruits, flowers, leaves, and woods of various species. Why did humans use different parts of plants to make beads? By examining the qualities of the materials, such as color, shape, aroma, availability, and the ease in processing them, we can learn about the ideas of the people who made plant beads.
3. Animal beads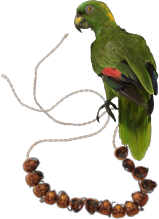 Various parts of animals have been used to make beads, including bones, teeth, tusks, nails, hair, feathers, egg shells, scales, and heads. Beads made from animals have characteristics, including the variety of living creatures, such as insects, birds, fish, reptiles, humans, and other mammals, whether or not the parts are used as-is or are processed, and the difficulty of finding several tens of animal canine teeth and human teeth.
4. Shell beads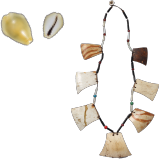 Various kinds of shells have been used to make shell beads. These kinds of beads can be gathered in largely the same size and shape, and can be brought over long distances through trade, due to the ease of transporting them. From the distribution of shell beads, we can learn about the extent of trade.
5. Stone beads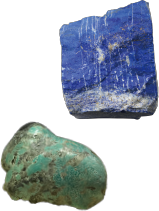 Various kinds of materials have been used to make stone beads. The main types are jade, chalcedony, turquoise, and lapis lazuli. The characteristics of stones are their uneven distribution, for example, lapis lazuli is from Afghanistan, and the special techniques required to acquire the stones and make holes in them.
6. Metal beads
Many kinds of metals, including gold, silver, copper, and iron have been used as materials for beads. As with stone, the characteristics of metals are their uneven distribution, and various special techniques are required to produce metal from ore and to process into beads. For this reason, trade developed between makers and users as exemplified by iron beads. Metal beads cannot be easily made by just anyone.
7. Glass beads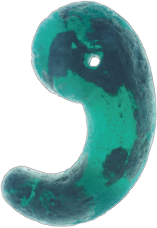 Various kinds of glass have been used in the production of glass beads. These have the same color but differ in luster and shape. Glass was first made in Syria 3,000 years ago. Glass bead-producing areas have been limited to certain locations up until now. In 17th century Europe, glass beads were used as trade goods in the remote regions of Africa and Asia.
8. Beads in the 21st century
As we entered the 21st century, beads made with new materials and through new production methods began to spread. Paper and cotton pearl are used as materials, and wire art and bead weaving became known techniques. What kind of beads will we have in the future? This corner examines the future of beads.