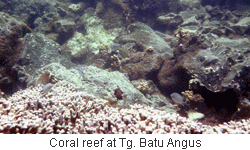 Collection Sites

Bitung is located at the northern tip of Sulawesi, Indonesia, being situation on a very famous international harbor. Collection were made mainly by beach seine and hand-net while SCUBA diving or snorkeling at various sites along Lembeh Strait, which divides Lembeh Island from the Sulawesi mainland. Commercial fishes, taken by gill net in Lembeh Strait by local fishermen and available at fish markets in Bitung City, were also collected. Some commercial fishes taken in the Arafura Sea, as indicated by an asterisk before the scientific name of the species, are also included in this book.



Lembeh Strait is ca. 20 km long, and very narrow, only ca. 800 m at its narrowest point. Various kinds of habitats can be found along the coasts of the Strait: coral reefs are developed around Tg. Batuangus, Serina Kecil and Serina Besar Islands, and Tg. Lampu; whereas, seagrass beds usually dominate other sites, especially at Tanjung merah. Exceptions are Pintukota and Mawari, where mud-bottomed areas are dominant.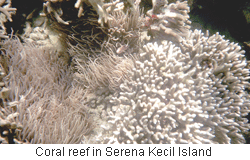 Daerah Penelitian


Bitung terletak di paling utara Sulawesi, Indonesia, berada pada pelabuhan internasional yang terkenal. Pengumpulan ikan terutama menggunakan jaring 'beach-seine' dan 'hand-net' sementara menyelam ataupun 'snorkling' juga dilakukan di beberapa tempat sepanjang Selat Lembeh yang memisahkan pulau Lembeh dari daratan utama Sulawesi. Ikan-ikan ekonomis, diambil dengan jaring insang di Selat Lembeh oleh nelayan setempat yang dapat dijumpai di pasar ikan di kota Bitung, dan ikan-ikan inipun dikoleksi. Beberapa ikan ekonomis di dalam buku ini diperoleh dari Laut Arafura, yang ditunjukkan dengan tanda bintang sebelum nama ilmiah dari jenis ikan tersebut.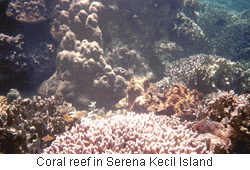 Selat Lembeh kurang lebih sepanjang 20 km dan sangat sempit, hanya kurang lebih 800 m dari titik tersempitnya. Bermacam habitat dapat dijumpai disepanjang pantai dari selat ini: terumbu karang dapat dijumpai di Tanjung. Batuangus, pulau Serena Kecil, P. Serena Besar dan Tanjung Lampu; sementara padang lamun umumnya mendominasi sisi yang lain, terutama di Tanjung Merah. Pengecualian di Pintu Kota dan Mawari, dimana dasar berlumpur mendominasi tempat tersebut.