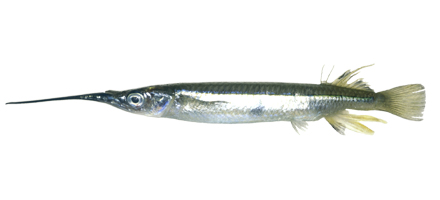 Zenarchopterus dispar, 74 mm SL (from New Caledonia)
Zenarchopterus dispar (Valenciennes, 1847)
Esturine harfbeak
Julung kajangan
D 11-12; A 12-13; P1 9-10

Caudal fin rounded; upper jaw distinctly wider than long; 6th and 7th anal rays of males greatly thickened and elongated, reaching beyond caudal base; 4th and/or 5th dorsal ray(s) elongated. West Pacific.

Sirip ekor bundar; rahang atas lebih melebar daripada memanjang; jari-jari lunak sirip dubur 6 dan 7 pada ikan lebih tebal dan memanjang, mencapai bawah dasar sirip ekor; jari-jari lunak sirip punggung 4 dan atau 5 memanjang. Pasifik Barat.