Director General's Message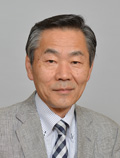 National Museum of Nature and Science (Kahaku) is a museum with a comprehensive exhibition of natural history and the history of science and technology that play core role among science museums in Japan and in the Asian region as well. We have been promoting our three fundamental activities: conducting research studies, collecting and preserving specimens, and organizing exhibitions and educational programs. These activities are conducted mainly in three districts as our institution's site: in Ueno district at Japan Gallery (designated as a national important property constructed in 1931) and its adjacent building, Global Gallery; in Tsukuba district at Tsukuba Botanical Garden and in our Research and Natural History Collection Wings; and in Shirokane at Institute for Nature Study (designated as a natural monument and historic site).
Kahaku was founded in 1877, and this year marks its 140th anniversary. Each year since the foundation, we have enjoyed receiving a great number of visitors, and a new record of over 2.4 million visitors was set in FY2016. In recent years, Kahaku has seen over 2 million visitors each year, which we take as a sign of growing interest toward the Museum. Our staff members are devoted to further fulfilling the public's expectations. We have been working to improve scientific literacy among various people in society, and in the last couple of years, we have extended our focus to preschoolers. The "Touch and Talk Wagon" is a program where the Kahaku volunteers share tips to promote a deeper understanding of the exhibits. It was introduced into the Ueno District and the program is now in full swing this year, in FY2016. These activities are aimed to better serve the diverse interests of our visitors. We are striving to create a better viewing environment for our visitors, especially in the Ueno District, by extending the museum visiting hours, and offering multi-language panels.
The 140-year long history of Kahaku's endeavors were made possible through the support extended to our researchers and staff members from other museums, research institutions, business entities, local communities, and more. We would appreciate your continued and hearty support, as we promise to further enhance the role of the museum.
Yoshihiro Hayashi
Director General
The National Museum of Nature and Science