Director General's Message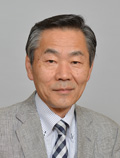 The National Museum of Nature and Science (Kahaku) was founded in 1877 and it now stands upon more than 140 years of accumulated history to this date. Kahaku is the single national museum in Japan with a comprehensive exhibition of natural history and the history of science and technology. As such, we have strived to contribute to advance the level of intellectual vigor in society through our museum activities, and we sense that this role will become increasingly important in the future. As the conditions surrounding Japan and the overseas countries change, the role of museums will also be transformed to fulfill the demands of society and the times. In this sense, we aim to further foster the culture by providing a setting where people may understand the past, acknowledge the present, and imagine the future.
Kahakuís long history of activities were made possible through the support extended to us from other museums, research institutions, business entities, local communities, and more. As we appreciate Kahakuís history, we at the same time, view these new callings for diverse change brought on by the times as an opportunity for business enhancement. We would appreciate your continued and hearty.
Yoshihiro Hayashi
Director General
The National Museum of Nature and Science