Director General's Message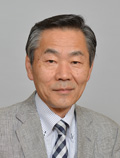 The National Museum of Nature and Science is a museum with a comprehensive exhibition of natural history and the history of science and technology. Due to the dedication of those who took part in our endeavors over the last decade, it has evolved into an establishment that also serves as a research institute.
One of the fundamental activities supporting our research studies, exhibitions and educational activities is collecting and preserving specimens over 4.14 millions. The development of a stable system for the collection and management of these specimens, together with the construction of the Global Gallery in the Ueno District and the transfer of the Shinjuku District facilities and the Center of the History of Japanese Industrial Technology to Tsukuba, laid a foundation that enabled us to significantly enhance research into natural history and the history of science and technology as well as cross-sectional studies between those subjects.
As Director General, I make every effort to continue and improve the research we have been conducting. This includes subjects such as the history of the Earth and its biosphere, and the history of science and technology, which represents the human history.
By releasing these research results to the public we further the aim of our exhibitions and educational activities, which is to enhance and improve people's potential interest in nature and science. Particularly, quality exhibitions can trigger a keen interest in nature and science among children. We also arrange activities that not only cover the practical aspects of nature and science, but those that are inspirational as well.
The efforts made by all the parties concerned led to 2.14 million visitors being received last year, which is a notable achievement both internally and externally.
We would appreciate your continued and hearty support, as we promise to further enhance the role of the museum.
Yoshihiro Hayashi
Director General
The National Museum of Nature and Science